The Yuppy Puppy Difference
You can relax knowing your dog will be very well taken care of at our luxury canine hotel. Our custom made, climate controlled, "atrium" style suites will help your dog sleep like a baby!
Included with a boarding stay:
Daily, supervised playtime in our playcare program before being tucked in for the night at 8pm.
One hour naps in their suites after each two hours of play.
Meals are served per your instructions. We HIGHLY recommend you bring your dog's own food for their length of stay.

Changing food can cause gastrointestinal problems that will make your pal uncomfortable while he/she's away from home.

Worldwide webcam access. There is NO additional charge to view your pet!
Medication administration if needed, no additional charge
Discounts given for boarding stays over 14 days.
Love, kisses and cuddling, Yuppy Puppy style!
Yuppy Puppy
State of the Art Amenities
Our suites are the best money can buy! Glass doors and PVC vinyl sides allow for maximum disinfection and safety.
Our layout is designed so the dogs do not face each other. This reduces any stress or anxiety, and hence, barking.
Each suite includes a soft, vinyl covered Kuranda pet cot that provides optimal comfort.

Feel free to bring a blanket and/or toys from home if it comforts your dog (large dog bedding discouraged).

Each night the bedding is sprayed with ThunderSpray, a calming pheromone mist.
At night, every dog falls asleep to the sound of "Through a Dog's Ear" music that is clinically demonstrated to calm canines.
We also offer thundershirts for dogs who have significant separation anxiety issues.
Fresh water provided at all times.
Multiple dogs from the same household discount
$5 on the second dog; $10 on all additional dogs.
15 minutes of one-on-one time daily is available for an extra $15.
Daily brushing is available for $1 a minute
(average time for average size dog is 10 minutes).
Daily walks available for $15
(weather permitting and not available during peak holiday times).
Peanut butter filled Kongs during daily naptime available for $5
Please do not make a reservation until your dog has passed its temperament test.
We HIGHLY recommend you bring your dog to playcare 2-3 times to get acclimated before being boarded for the first time.
Small and Special Needs Dogs
Dogs less than 10 lbs, puppies and older dogs get "special" treatment!
We give puppies more naptime than adult dogs.
In many homes, it is safe for small breed dogs to play with larger, older dogs. However, that is not always the case in group play amongst non-sibling dogs. We exercise an abundance of caution and separate dogs under 10 lbs into a playgroup of their own. If we only have a few of those size dogs on any given day, we keep them in our office or in the special needs room for play.  If you would like your small breed dog to be in regular daycare with the older group of dogs, we will ask you to sign a waiver indicating that you are aware of any risks of injury that may occur.
Yuppy Puppy is well equipped to take care of your friend, even when he's not feeling 100%. You'll be comforted knowing your dog is getting the individualized attention he or she needs throughout the day in our dedicated special needs play area. Older dogs, dogs with special needs or recovering from surgery and/or dogs just needing some extra TLC have their own quiet area to play and socialize. With three separate toddler beds, rubber flooring to keep dogs joints comfortable and a television streaming Animal Planet to comfort the dogs, our special needs room is a happy place for dogs to play and relax.
Yuppy Puppy
Look at those tails wag!
Our dogs are managed under the watchful, trained eyes of our dedicated Pack Leaders. When you check in on our webcams, you'll see that our daycare operates on a rotation platform, keeping dogs stimulated and happy all day long. We incorporate controlled play, exercise, mental stimulation, socialization and rest, all of which are vital to the wellbeing of your pet.
We group furry friends in 10 to 15 dogs per handler to ensure maximum safety. Dogs are separated by play style and temperament, not size. You can request that your dog receive breakfast, lunch and/or dinner at no additional charge. Meals are served in one of our spacious kennels where they have 60 minutes to enjoy their meal and digest before rejoining their friends.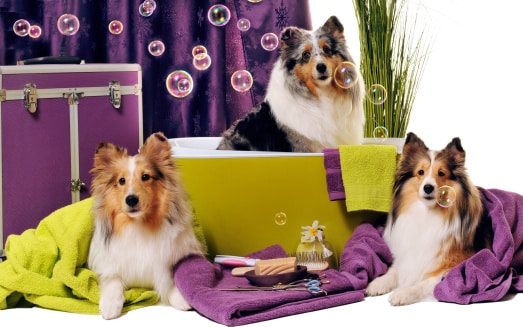 Pamper your pooch at our spa!
Whether your furry friend needs a basic wash and trim, or a complete makeover, our pack of groomers and bathers are here to pamper your pooch. Yuppy Puppy has a state-of-the-art grooming salon staffed by three experienced groomers with combined 25 years of experience.  Your pup will be with us for 3-4 hours while they are getting cleaned and fluffed.
Prices are based on size and behavior of dog as well as condition and density of coat.
2-3 cycles of shampoo (Medicated, Oatmeal, Whitening, Blueberry, Deep Conditioning Aloe, DeShedding, Plum, Deskunk, Deflea and Tick, Tar and Sulphur or Prescription)
1 cycle of conditioner (Oatmeal, Plum)
Blow dry as tolerated by dog (we do not use heated cage dryers)
Brush and/or comb out
Prices are based on size, breed, and behavior of dog as well as condition and density of coat.
Everything above, and additionally:
Full cut/style ( based on breed standards and/or your specific requests)
Nails trimmed
Anal glands expressed
Ears cleaned
Shed Management $10-$20
Boosts the health of skin and coat while reducing shedding and allergens by 60-80%.
Feet/Face/Fanny Trim (Per 20 minutes) $20
Minor trim when a full cut and style is not needed
Brushing out mats $1 per minute
Nail Trim $20
$5 Extra for Nail Dremeling
Teeth Brushing with Bath $10
Blueberry Facial $10
A natural, tearless product that decreases tear and saliva stains
Yuppy Puppy
Introductory Groom Process
The best time to bring your puppy in for it's first groom is typically 12-16 weeks of age. We recommend all puppies that will be exposed to other dogs in its first year of life to receive a bordatella vaccine prior to coming in for its first groom.
For some dogs, a first bath followed a week later by a first groom is a better idea than starting out with a groom. We will be happy to take "puppy steps" is your dog turns out to be extremely anxious.
We start your puppy out with a relaxing warm bath. Afterwards your pup is dried using a whichever type of dryer that best fits your dogs tolerance level.
We then gently clean ears, trim nails and then start brushing and combing out their coat.
Depending on the breed, your dog will be introduced to the sound and feel of the clippers during it's groom. Finally, every dogs favorite….the nails are trimmed or dremeled.
Our introductory groom cost ranges from $40-$60, depending on the breed of the dog, for puppies under 6 months of age.
Groomers Corner
To all existing clients-we have had to go up on SOME of our groom prices in 2023. We have called around and found that our prices have been significantly lower than our competition. We need to be in line with what other shops are charging to keep our groomers happy. Shampoo costs have also risen 50-60% in the past 3 months. Long haired dogs will have a bigger price increase than short haired dogs.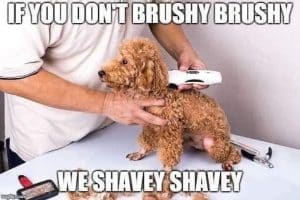 Yuppy Puppy
Good Dog!
Owning a pet is an amazing and rewarding experience, but also a responsibility. Training your pet properly will help both you and your dog have a more rewarding and enjoyable relationship with each other. We have partnered with Brandon Dameron, owner of Chicago Canine Society, one of the most trusted professional dog training companies in Chicago, to work with our clients for their dog training needs.
Brandon has been helping both pets and their owners understand each other better and live together in perfect harmony since 2012. He works with clients for issues with obedience, puppy training or to correct problems that are causing lifestyle issues. He immerses his clients fully in the training process, and with this holistic approach, we find that owners end up learning as much, if not more, than their pets.
Dogs are full of potential to learn and understand commands.  Brandon's techniques will lay the foundation for you to both establish and build upon that potential.  He combines your needs and wants with the natural attributes and potential of your pet to achieve those needs and wants. His training focuses on how to proactively use different tools and techniques to alleviate stress in dogs, while emphasizing positive feedback for good behavior.